🠈 Wikipedia 🠊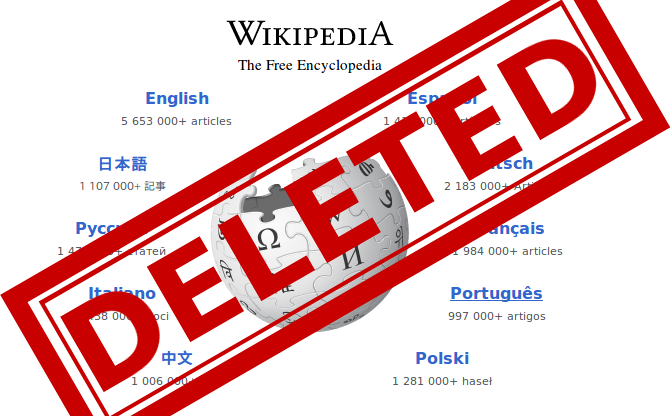 My Comments on Wikipedia
Back in the 1980s, I began developing an electronic Encyclopedia. I was using the Advanced Revelation Database engine. Unfortunately, I was unable to find anyone interested in the project.

There was actually a large number of groups developing similar programs in the 1980s and 1990s. I developed a version of my design using the ORACLE database engine, but ORACLES licensing system prevented me from pursuing that route.

Anyway, In 2000, Jimmy Wales, Larry Sanger launched a pathetic file based encyclopedia called Nupedia. At the request of Richard Stallman the company adopted the GNU license and then began publishing Wikipedia.com.

Jumping on the anti-capitalism band wagon. Wikipedia took a pledge against commerce and moved to the domain wikipedia.org. Instead of ads, Wikipedia sports pathetic fundraising campaigns where they beg the user's for money.

Wikipedia effectively destroyed the ability of other companies to fund their historical research projects. The online world is actually worse off today as a result of the project.
Wikipedia Biases
As Wikipedia is maintained by people with a left leaning view, the web site is notorious for its left leaning bias. The site is often used to spin historical events and influence election campaigns.
Bias Against Small Business
I am very much interested in the plight of small business in America. Although the failing small business sector still plays a small role in local communities, small businesses are completely ignored by Wikipedia.
The Name Problem
Wikipedia is a text-based medium. As a result it uses branded names as the entry point for all if its articles.

The poor design of Wikipedia creates a big program. Whenever a group changes its name, the authors at Wikipedia delete the page for the old name. This created huge discontinuities in the presentation of history.
Pages Deleted by Wikipedia

Here I will rant about pages deleted by Wikipedia. I am only reporting pages that made research difficult. The listing is in order that I find pages. I switched from bullets to numbers so that I can see the count.

The Chart House became a huge corporation that bought Godfather's Pizza. Wikipedia editors deleted the page about the company after it was acquired by Landry. This caused a discontinuity in the history of multiple restaurants.
They deleted a page for Versa Capital Management this company is part of the merger chain of Eastern Mountain Sports, Sports Chalet, Bell and Howell, Black Angus and many small stores. Deleting the page destroyed the merger chains.
Wiki deleted the page for Saga Corporation which was a huge food service group that acquired several restaurant chains.
Wiki deleted page for American Restaurant Group which is part of merger chain for numerous restaurants.
Wiki removed information about the creation of the FSLIC by FDR in 1934. I guess it is an embarrassment to Democrats.
Wiki deleted the page for Countrywide Financial which was a big player in the subprime lending crisis that crashed the economy. The business was bought by Bank of America. (visited 9/2018)
Visited 9/18: Wiki had deleted the page for Federal Savings Bank and forwarded it to a page that tried to tie Trump to the FSB scandal for having hired Stephen Calk.
9/18: Doing a write up of Kroger merger chain was frustrating. Wiki deleted pages for active brands such as Gerbes and pages for many of the historical brands.
9/18: SuperValu acquired a huge company called Wetterlau that had 1,300 store and distribution network for $1.1 billion. Wiki deleted the Wetterlau page.
9/18; Wikipedia deleted the page for Swift-Eckrich which owned a number of brands such as butterball, Peter Pan Peanut Butter and is critical for understanding the merger chains of ConAgra and Beatrice Foods.
Wikipedia deleted its page on Meadow Gold which was an important brand for studying the Dairy business.
9/18: Wiki deleted the page for Esmark. This firm was acquired by Beatrice for $2.6 billion.
Discovered 9/18: Wikipedia deleted the page for TLC Beatrice which bought the international holdings for Beatrice Foods from KKR. TLC became a $2.2 billion company. Its owner, Reginald F. Lewis, was the first African American billionaire. Wiki shouldn't be deleting history.
Discovered 12/18: Wikipedia says that SteemIt and STEEM failed to meet their notability standards.
Discovered 12/18: The company Performance Bike was trying to roll up independent bike stores. It was bought by "Advanced Sports." The combined company went bankrupt. Wiki deleted the Performance Bike page so we lost this info.
Discovered 5/19: Samuels Jewelers was a central part of the effort to consolidate the jewelry industry. It was acquired by Gitanjali Group to create the world's largest jeweler. The whole shebang went belly up under allegations of fraud in 2019. Wikipedia deleted the Samuels Page and gutted the Gitanjali page.
Discovered 6/19: Wikipedia deleted the page for EyeMasters which was part of the merger chain for VisionWorks.
Wikipedia deleted the pages about the Call Family (FJ Management). They created Maverik Stores, Flying J Truck Stops, Spartan Stores, Trailside Stores, Crystal Inn. They owned several oil refineries and developed the Call AirCraft company.
Discovered 10/19: Wikipedia deleted the pages about Whilshire Credit Corporation and Fog Cutter Capital. Andrew Weiderhorn sold subprime mortgages through Fog Cutter. It defaulted on a $160 million loan which caused the collapse of a billion dollar group that invested union pensions. Somehow, Fog Cutter survived owning Fatburger. Fog Cutter now has a huge restaurant group call FAT Brands.
Discovered 11/19: An editor named diannaa deleted the page about Stone Point Capital. This private equity firm has $17 billion invested in 130 companies. Diannaa says this is insignificant.
Discovered 11/20: Wikipedia deleted the page for the cryptoexchange Poloniex.
Dicovered 1/21: KKR purchased a Dutch conglomerate called Vendex. KKR changed Vendex's name to Maxeda. Wikipedia deleted the Vendex page the history of the conglomerate.